Trudy Kuhn BA (Hons) Dip SMRT
I qualified as a Sports and Remedial Massage Therapist with the North London School of Sports Massage in 2005. Since then I have worked in physiotherapy clinics in Surrey treating a wide range of clients including international sportspeople. Many of my clients are keen amateur athletes but I also treat many people suffering from work related and postural issues. Several clients come to regain range of movement after surgery.
I competed as an 800m & cross country runner in my teens but later suffered badly from Achilles tendonitis which eventually resulted in my having decompression surgery on both tendons.
In 2002, the year after the operations, I ran the London Marathon to raise money for an orthopaedic charity. I became very involved in distance running & fitness & decided to change career by studying for the YMCA Personal Trainer's Diploma.
After successfully completing this & working as a Personal Trainer I became increasingly interested in sports injuries & rehabilitation. I gained my Sports & Remedial Massage diploma in 2005 and have been practising ever since. My personal training knowledge is an invaluable aid for advising clients on remedial exercise.
I currently work alongside The Surrey Osteopaths at the Westcroft Leisure Centre in Carshalton. I am fully insured and possess a First Aid certificate.
Sports Experience
I was keen road & cross country runner belonging to both Sutton Runners and South London Harriers. I competed over distances from 5k up to the marathon & have completed the London Marathon three times. I still enjoy running but these days I train purely to stay fit.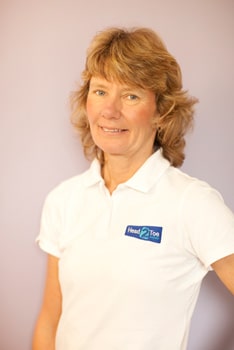 "I am a committed athlete & know from experience how frustrating it is to become injured. It is my commitment to you to do my best to help you avoid injury & to assist you as much as I can if you are already in trouble."
After suffering from chronic bad back pain for as long as I could remember I was recommended to visit Trudy and her relaxed manner and amazing knowledge of the body really helped me work to correct my posture and home-working setup and I'm seeing great results already
I decided to take up active exercise and found I was suffering from regular aches and pains in my shoulders. After a few quick sessions with Trudy I realised that I actually had tissue damage and needed to change my exercise routine. With new strengthening exercises I am able to complete an exercise class without the recurring pain
I have been running pretty much all my adult life and time has taken its toll on my joints and my recovery time between events has been greatly reduced which has left my training schedule almost non-existent so when I visited Trudy and she was able to help me reduce my recovery time it was like having my youth given back to me. I have now completed 5 more marathons that I thought I wouldn't have been able to do!